There is a wonderful web of connections the Doors digital incubator program has woven for s and we keep on circling back to content and people we have been exposed to over the first and second phase of the incubator as we form our collaborations for the coming season. 
At the end of the first phase of the incubator in June 2022, we were introduced to an inspiration talk titled "Exhibition as Activism: Starting a global conversation about data and society" by Marek Tuszynski from Tactical Tech. We are pleased to say, as of March 2023, we are partnering with Tactical Tech on sever levels. A collaboration between two very compatible organizations made possible because we learned about each-other at the right moment in time and in the right setting facilitated by the organizational team at DOORS, for which we are very grateful. 
Our first collaboration started not with the Glass Room exhibition – as was our original intention – but wit a co-development experience within the framework of the project 'EU Media Literacy Case for Educators: Sustainably Scaling Media Literacy in Europe through Educators' (EU MLCE) – project number 101093406 – , co-funded by the European Union under the Creative Europe Programme (CREA).
More about the program bellow.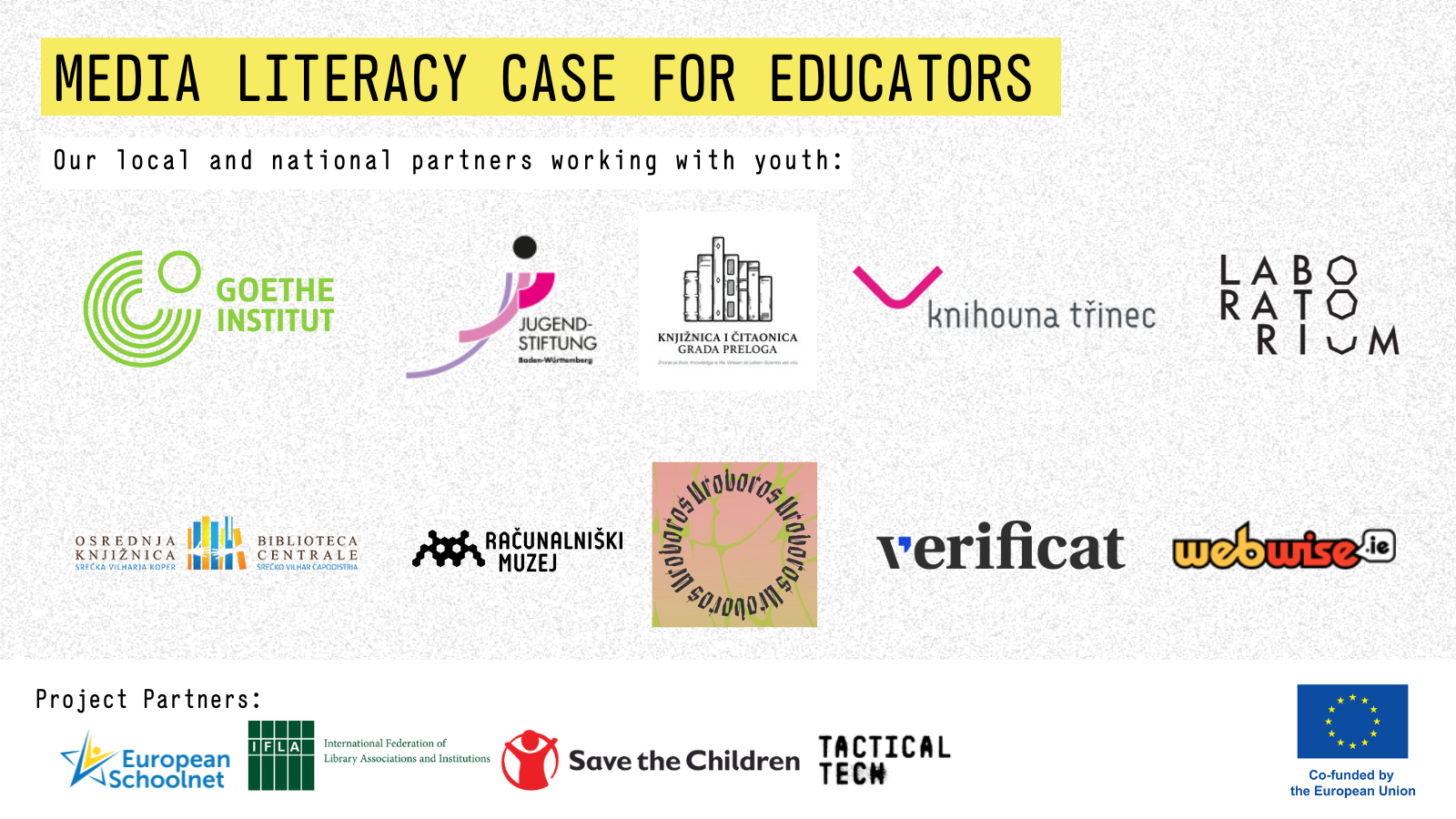 Media Literacy Case for Educators: empowering educators to lead  media literacy initiatives in Europe
The project will provide teachers, trainers and librarians across Europe with a one-of-a-kind comprehensive set of co-developed and creative tools, resources, methods & material.
Educators worldwide are leading the charge in spreading awareness about the benefits and potential risks of digital technologies. From schools to libraries to cultural centers, educators are equipping students of all ages with the knowledge and skills they need to navigate the digital landscape with ease. By teaching them how technology shapes their lives, educators empower the next generation to be critical thinkers who can confidently tackle challenges in their digital environment.
Precisely, in times when the quantity of Information is overwhelming, and misinformation spread is intensifying social tensions and increasing polarisation, digital and media literacy is crucial. Here is where the Media Literacy Case for Educators comes to life.   European Schoolnet,  International Federation of Library Associations (IFLA),  Save the Children (Italy) and Tactical Tech, joined forces to develop effective, creative, awareness-raising educational interventions and resources such as the Massive Open Online Course (MOOC) that inform students and engage them in conversations about how to take proactive action. 
The initiative, co-funded by the European Union, champions educators, schools, libraries, education, youth and cultural centres across Europe. These local actors and protagonists work with their communities to adapt and translate the Media Literacy Case for Educators in a way that responds to the needs and cultural particularities, creating impactful solutions at the local level. 
Together with our partners, we embark on the project with the participation of over 30 European Ministries of Education, 25 insafe  centres,  25 libraries in Europe and 12 organisations working with  youth. 
Follow the partners social media and #MediaLiteracyForEducators for more information!