These days were super exciting for us. Not only are we neck deep in final production for our upcoming opening of the new long awaited museum location. But we're also hosting a string of international visits. Some planned like the international software heritage symposium next week and some less planned, but nonetheless more than just welcomed such as our new friends from the Computerspielemuseum in Berlin dropping by to cheer us on and give us support in times of need as well as exchange so many interesting details (both ways) about our day to day practices and best off moments as well as cautionary tales. All at the best possible time!  But we never imagined we'd have a visit from the other side from the planet just days before we open. 
We were super excited to meet up with Dan Koerner, creative director from Sandpit, whom we met just a few days ago at the DOORS Digital incubator program for museums (hence the attempt at a pun in the title of this post). Sandpit creates immersive, personal experiences that change people.

 Providing business and digital strategy to a broad range of corporate and not-for-profit clients looking to provide meaningful digital experiences for their users.

 Dan was presenting as a digital solutions provider withing the incubation program segment where museums got to meet actual solution providers to not just learn about their work but also discuss the client solution provider relationship, communication challenges and expectation as well as project management. For small museums this was a valuable opportunity to understand how work can be impacted in various ways, when moving it outside the organization – which is a must really. Often selecting the partner solution provider is critical to a project's success and being able to identify the cultural differences in teams early on is crucial. Dan guided us through the amazing work they do at Sandpit with a focus on bridging the digital and physical presentations. And to put it mildly I was impressed at the dexterity or should I say fluency of thought as well as execution in projects they did for their clients. If anyone can help us think about our hybrid presentation layers, then Dan is the man I said to myself. I dropped him a note after the session, hoping that as part of the incubation program i would have at least 20 minutes of his time at some point to talk about the challenges we face and was taken aback by what unfolded: 
And catch up we did, we showed Dan around the museum, chatted over a looong coffee and exchanged knowledge in the friendliest of atmospheres. He immediately referred us to some additional sources pertaining to certain topics we were working on and as soon as things quiet down after the opening, I'm sure we'll pick up our conversations. Certain points he made just won't leave our heads and we've been mulling over them ever since our discussions. They are not just a well versed creative agency but also a production house with insights into production challenges we have yet to tackle. Maybe not today, but I'm sure we'll be working on some exciting projects together tomorrow.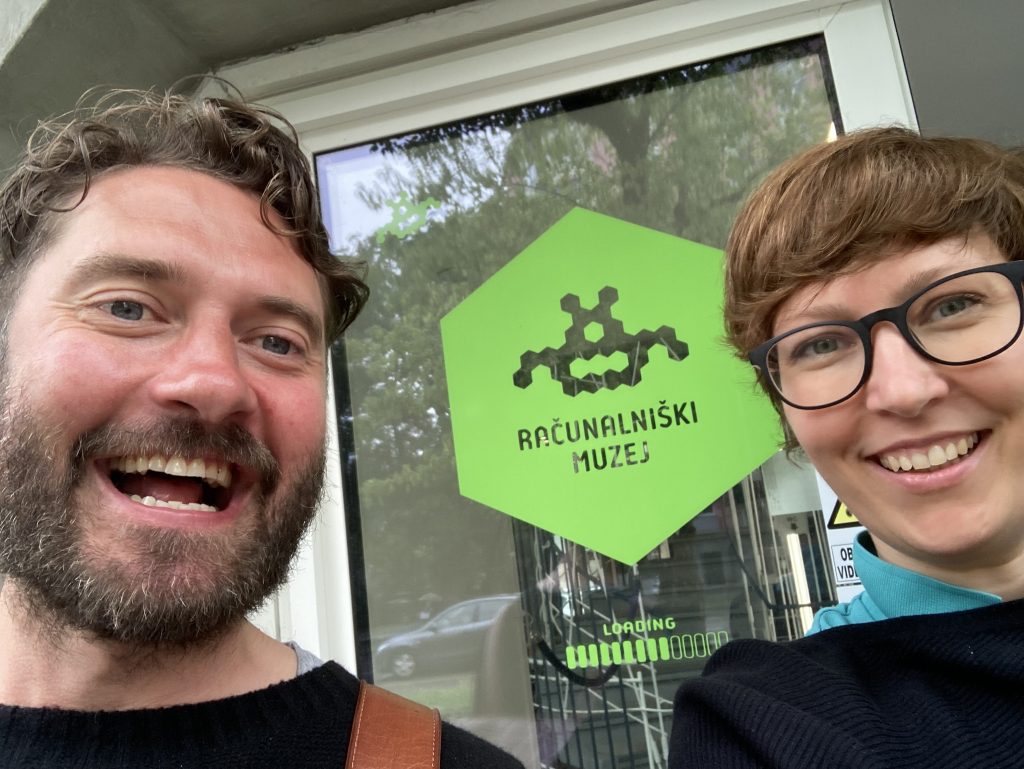 We took the opportunity to take a photo in front of our "DOORS" (pun again intended) – note how it still says "loading" – not for long.
Let's say it's a historic moment captured in a simple digital image. Or at least we like to think of it that way. Anyhow, we are grateful to the DOORS team for making all of it possible (see post on DOORS) and Dan, safe travels back to Melbourne, Australia.
We'll visit eventually!